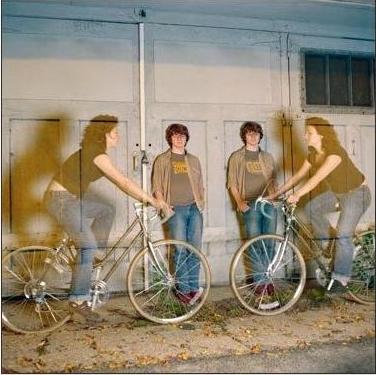 Halfway down the stairs is a stair
where i sit.
there isn't any other stair
quite like it.
I'm not at the bottom,
I'm not at the top;
so this is the stair
where I always stop.

You think that's a poem by A.A. Milne, the guy who wrote "Winnie The Pooh".
I always thought it was me.
Not at the bottom, and not at the top, but right in the middle.
Never at the top of the class, never at the bottom.
Good enough at sports to make the Junior Varsity team, but not quite good enough to be Varsity. In the Honors Orchestra, but never even second seat, let alone first.
My art class project painting was recognizable, but only my mom thought it was worth framing and hanging.
I play guitar well enough that the country band that plays at the bowling alley on Thursdays calls me sometimes when the regular guitarist is too drunk to play. They also suggested I not plan on a career in music.
Like that. You don't usually even see me. I look good enough that I don't make babies cry, but not so good that girls give me a second glance.
In literature, I'd have been the guy who fed Sancho Panza's mule.
I graduated from high school with a nice solid "B" average and 690 on both the Math and English SAT.
Those grades and SAT wouldn't get me into an Ivy League school, but they were too good for me to waste time in the Community College, so the folks sent me off to State.
It was a middle of the road solution to the problem of what to do with the rest of my life.
Since I had no real ideas and no particular talent, I majored in Liberal Arts. Enough science to not be a scientist, enough English to not make a career out of it, and enough of everything else to not be an authority on it.
For three years, I got Cs and Bs. Nice and solid, half-way up and half-way down, with no real idea of what to do next.
In my senior year, Amy transferred to our school. God knows why. She could have gone to a better school. Not that State is bad, but it's not MIT or Harvard.
I first saw her in my morning Lit Crit class.
You know how undergrad English Lit classes go. Everyone reads something. The professor asks what you got out of it. You propose something and he tells you that you're wrong. You write down the correct interpretation and get ready to reword it for the exam.
Amy didn't do that.
When the professor didn't accept her interpretation of King Lear as being Cinderella with a twist, she argued with him. I mean, raised her voice, shouted, quoted passages, drew analogies and demanded proof that there was any other possible interpretation.
She was wearing a tight t-shirt, and I marveled at the way it stretched as she inhaled for another argument.
When class was over, she stayed behind to continue the argument.
I stayed behind to watch her breathe.
I had an hour between English and Statistics, and this was the best show I'd seen to date.
"Miss Brown", the professor explained, "You have to read Lear in the context of the time. This is the story of a ruler dealing with unruly subordinates, represented by the daughters. They represents John and the Magna Carta"
He started packing his notes.
"BullShit! Read it in context - "Cap of Rushes" was the contemporary fairy tale that grew into Cinderella. Shakespeare stole it right down to the line about salt loving meat. When you deconstruct it, it's a story about the rivalry between siblings and parents and the need for understanding on both sides. If you want historical context, it's Henry VIII, Mary Tudor, Mary Queen of Scots and Elizabeth!"
He shoved the last papers into his briefcase and picked it up, edging towards the door.
"I'll grant that you've got an interesting perspective, and I'd love to discuss it at greater length, but I've got a faculty meeting..."
He headed out the door.
"Coward!" she spat at the space where he wasn't and then glared at me as if I'd been the one arguing with her.
"You can see the parallels, right? The sisters trying to get above themselves, the parental figure not recognizing the one that is actually loyal and true, and all the rest."
I nodded. I could see her argument, but I didn't see any good outcome from having it out with the professor. In the end, he graded the exams, not me.
"Umm, I've got an hour before my next class... Would you like to grab a coffee?"
"Do they do expresso around here? Or is there a Baskin Robbins? I either want something strong and hot or cold and sweet."
The food court had both and so did she, sipping the expresso in between swallows of Rocky Road.
I had some tea and biscotti.
The silence got awkward. I'm a decent listener, but never was better than average at small talk. The safe topic is always classes.
"Are you an English Major?", I asked. It seemed like a good guess.
"Sort of." Her tongue ran over the spoon, grabbing the last chocolate chunk. My heart skipped a beat and then doubled a few beats to make up for it.
Did I mention that she was gorgeous?
"I'm majoring in English, Math, Chemistry and Art."
I was going to say something to fill the conversational space. Something like "that's nice." Instead I said "Youwha?"
"English, Chemistry, Art and Math. The trouble is that I have equal aptitudes in all areas. I don't have a single strength to play to, so I did't know what to do. So I decided to do everything. They're really all the same."
I must have looked a bit unbelieving. I certainly felt it.
"Look," she said. "Everything in literature derives from something else.
"Take De Morgan's funny poem:
"Great fleas have little fleas upon their backs to bite 'em,
And little fleas have lesser fleas, and so ad infinitum.

"It derives directly from Swift's poem:
"So nat'ralists observe, a flea
Hath smaller fleas that on him prey,
And these have smaller fleas that bite 'em,
And so proceed ad infinitum.

"In either case, they're telling the same story, and the story gets repeated in every field.
"In Chemistry, what we see is controlled by the shape of the molecules. Curly hair is caused by cysteine bonds in hair protein. The more bonds, the curlier molecules get and the curlier the hair. The cysteine bonds get created because atoms want to share electrons. Atoms want to fill their electron pairs. Hair, molecules, atoms, electrons, quarks.
"And so ad infinitum.
"In Art, we paint a background with broad strokes, and then more detail in the foreground, smaller and smaller brush strokes. The renaissance guys used brushes with a single hair to get the fine details.
"Ad infinitum.
"In math and computer science, they call it fractals and recursion.
"But it's all the same idea.
"Bucky Fuller said you need to comprehend the universe, and then you can comprehend the small.
"I think you need to start in the middle and work in both directions.
"It's pretty obvious, right?"
I wasn't glazed. I swear I wasn't.
OK, I was as glazed as a donut.
I wasn't sure if I was in love with the way her T-Shirt moved when she got excited, the way her tongue caressed the spoon when she was searching for a word, or the way her mind flicked from subject to subject whenever she spoke.
But I was sure I was in love.
Between my majoring in nothing and her majoring in everything, we had several classes together, and a few more that, as Amy put it "had synergistic overtones." Books like "Godel, Escher, Bach" get referenced in literature, philosophy and math classes.
Pretty soon, she and I were a fixture in the food court with a pile of books, empty expresso cups and ice-cream spoon statues spread around the table. Or on a couple of tables when we needed space to make a model the electron cloud around a nucleus using empty expresso cups for protons, empty ice cream cups for neutrons and little wooden spoons for the electron pairs.
Her enthusiasm was contagious. I found myself actually working for the first time in my life. Part of this was that in order for me to spend time with her, I had to make her want to spend time with me. That meant I had to be interesting, not just average.
The other part was that I was starting to get enthused about stuff at the edges of my classes. Instead of just learning the material that would be on the exam, I was reading the extra material and doing the extra projects because they were fun.
At least, they were fun when I did them with Amy.
You've read about the left-brain, right-brain stuff. You know how the left side is analytic and linear while the right side is emotional and intuitive.
All my life, I'd exercised both sides equally - but not very much.
I started working both sides a lot. I did extra math and physics problems, and then went to my studio art class and finally pushed my way out of representational art into expressionist forms.
Amy said that math and art were the same. And they were. They were ways to spend time with her.
You might think I was getting a bit obsessed. You might be right.
But it wasn't just Amy I was obsessing over. I obsessed over everything. I didn't just do my projects, I was the project.
When I did a math problem, I didn't see the shape of the curve, I rode the curve, with my stomach flipping at every cusp like it was a roller coaster. I'd take derivatives and double derivatives to smooth the ocean of the equation so that it could be traversed, to reach the far shore where the answer waited.
When I analyzed a story, I was the story - not in the story, I actually was the story. I knew my ancestors back to two cavemen telling about the bison who got away. I could see each story's quirks and personalities, how they were shaped by their times and why Joseph Campbell would call this one an Archetype and Freud would see how that story was influenced by the parent story that it derived from.
In art and music I was color, tone, form and substance. The striving of meaning to convey itself directly to the soul of the viewer without involving the id or ego.
I saw chemistry from the atom's viewpoint, shielding my electrons from capture by more electronegative atoms (and ultimately losing them), sharing them with my equals, or stealing them from weak and imprudent hydrogens.
I no longer got a B or C for my work. I got an A or an F, depending on whether I'd had time to merge with the material, the professor agreed with my analysis, understood my art or I'd blown off this subject to take time with another obsession.
Time was a bit of an issue. I'd already cut my sleep to just a few hours a day, mostly catnaps I caught while taking the elevator to class.
I was also obsessed over Amy. I wanted to spend all of my time with her and for her to spend all of her time with me. It wasn't a reasonable idea, but I wasn't exactly feeling reasonable.
I was feeling like I was in love. Like a hairy chested sensitive new-age guy with a club on his shoulder and a crying towel in his pocket.
I saw her talking with an art major one afternoon as I walked across campus. He was a jerk I knew by sight. An art major who put more effort into being an artist than into doing art. He affected wearing his painting smock (with the artfully applied paint smears) all the time. He had a wispy little goatee and shoulder length wavy brown hair.
As soon as I saw them talking, I imagined myself punching the posturing little peacock.
Amy saw me looking at them and waved me over.
"Bill", she said, "Do you know Armand?"
We shook hands and I winced. My knuckles were cracked and my wrist hurt as if I'd fallen on it.
"Bill", he said, "Wasn't your painting on display in the rotunda last week? Excellent work. I could never do a painting like that." He paused and actually draped his wrist over his forehead.
"I'm too deeply rooted in the romantic, representational styles. I should have been born during the renaissance."
Part of me admired how deftly he'd taken a compliment to me and converted it into a discussion of his romantic soul. The rest of me imagined my hands around his throat, beating his head against the sidewalk.
"...Care to join us?".
I was so lost in my daydream, I missed half of what Amy had just said.
"Sorry", I muttered, flexing my fingers to get rid of the cramps. Call it the muse, call it a need to not be around Armand, but my obsession was suddenly riding me. "I've got some studio work to do".
I all but ran to the studio. I needed to paint, and I needed to do it now. I painted like a madman. Threads of DNA danced endlessly upon a mathematically perfect fractal ocean, tossing electrons and amino acids in gay abandon through Shakespearean allegories.
Nobody but me would ever understand or appreciate it, but I didn't care. I didn't paint it for a grade, for class, or for anyone. I created this art for me, because I understood it and I needed to paint it.
I didn't stop for dinner, and barely paused to turn on the lights when it got too dark to see.
I woke up in my dorm room, in the middle of the next afternoon, with the sinking realization that I'd just slept through my math mid-term.
Which I aced.
I don't know how. I have no memory of taking the math exam. The answers were definitely mine. They were exactly how I'd have solved the problems, but I had no memory of ever seeing those problems.
I didn't let it worry me.
The studio master didn't like my painting. He called it "amateurish, presumptuous and incomprehensible". Amy called him a cultural illiterate, but admitted that she only saw hints of what I was trying to communicate with it.
Armand had changed to a black turtleneck and was declaiming how Kerouac and Ginsberg had influenced his latest efforts. How he now understood expressionism and Coltrane.
A week or two later Amy's room-mate was out of town. Amy had scored a Bollywood DVD and invited me over to help set up her laptop for Zone-free viewing.
The laptop monitor didn't have a wide viewing angle, so we sat side-by-side on her bed and watched the movie. It was a gloriously overdone romance.
I'll confess to not being the guy most familiar with female anatomy. I'm probably not much less familiar than most guys my age, once you skip all the posturing and bragging, but it's still not much to speak of.
Watching the suggestive dance scenes, with Amy cuddled up next to me, I started to fantasize about kissing her.
She turned her head toward me just as I turned towards her. Her eyes were large as the moon, and I fell into them. Her lips were warm, soft, and tasted a little like the popcorn we'd been eating.
The kiss grew into a hug, and from there to a sprawled across the bed cuddle, with my hand slipping up under her T-Shirt, and her back arching as she moaned.
I don't know how far we'd have gotten, but the movie ended then, and we were both sitting on the bed eating popcorn. My pants were embarrassingly tight. When she looked at the clock and muttered "Morning exams suck" I took the hint, gave her a chaste kiss and limped back to my dorm.
When I got back to the dorm, I discovered that someone had finished my lit-crit paper. The writing style was mine, and they'd discussed all the issues I'd intended to discuss and reached the same conclusions. I couldn't have written the final summary paragraph any better myself.
It might have been cheating, but since it was the paper I'd intended to write, I just handed it in and used the time I'd have spent writing the paper to do some extra lab work. I wanted to see if using Ammonium Chloride instead of Ammonium Sulfate to precipitate PhosphoGlucose Isomerase would provide a better yield.
Running the two prep's in parallel and keeping the duplicate notes so I could do a solid comparison took a lot of concentration. It was a seven step isolation, with a lot of enzyme activity checks along the way. I was in the lab from just after dinner until the TA came in to prep for the morning organic lab, but I'd run both preps and seen that the enzyme activity declined at the precipitation step when you used Ammonium Chloride. Now I wanted to understand why, but there wasn't time.
I had just time to grab a bagel on my way to the studio. When I handed over my dollar, the cashier laughed at me, "I told you one wasn't enough for a growing boy!".
I laughed back without telling her that this was my first bagel of the day. A lot of folks look a lot alike, and it's not hard to confuse a couple average looking guys when you see a couple hundred of them a day.
Things went to hell when I got to the studio. Someone had been working on my project. The paint was still soft as if they'd left within the hour. I didn't object to what they'd done. It was what I'd intended, but I was furious that anyone would touch my painting.
Armand was the only other person there, wearing his beret indoors, his black turtle neck showing under his smock and a copy of "On the Road" conspicuous in the back pocket of his jeans.
"Did you do this?" I shouted at him.
He looked up from his painting.
"Huh?, are you back again? I thought you said it needed to dry for an hour before you did more." He looked at the clock. "Oh, I guess that was an hour ago. When you're in the zone, you never know what's going on around you. Kerouac didn't call it that, you know, but it's what he discovered on the road. The oneness with life. The zen, you dig?"
He went on. I was busy fantasizing about making him eat his copy of "On The Road".
He turned back to his easel, and I wondered if he'd let his dog play with his book. It looked chewed.
Amy arrived about then.
"Well, that was a fast change and shower, Tiger", she said, laying a hand on my chest in a more familiar manner than she'd ever done before. She raised her head and her lips parted as I kissed her. I was surprised, but responded in kind.
"Get a Room!", Armand shouted. We broke. She giggled as she grabbed her painting supplies and patted me on the rear as she went to her easel.
I went back to my painting. I knew what I'd intended to do after I put on the layer of paint that was just drying, so I got to work.
When you're short on sleep, and perhaps a bit obsessive, you start to accept strange things. It's just reality. Maybe not the same reality as yesterday, but reality just the same.
After all, reality never stays the same from day to day.
Just a few years ago, I was too short to see over the brick wall in our yard, and now I jump over it. I've been changing all my life, and learning to accept change is how I cope. It's how every one copes. Tomorrow will be as different from today as today is different from yesterday.
So I accepted that I did things I didn't remember and seemed to be in two places at once. When I was a child, I was short, and there was one of me, now I was older, taller, and apparently there were two of me.
It wasn't unusual. It just was.
I didn't get any more sleep, I just obsessed about more things. I figured out how the difference in molecular shape of Ammonium Chloride caused it to kill the enzyme activity and Ammonium Sulfate didn't. I learned to improvise 5/4 time using Ionian mode, and I even took a stab at the department's Math Challenge. It was the first time I'd ever done something academic that wasn't required. It was fun.
Amy's roommate moved in with her boyfriend, so I started spending every other night or so in her Dorm. I knew I was welcome when I saw my favorite shirts and clean underwear in her roomie's unused dresser.
My solution to the Math Department Challenge got a special commendation. It deserved it. I spent 2 solid days deriving the formulas and writing the programs to validate them. When I finally went to bed, I'd also finished the painting and an Freudian analysis of "Alice in Wonderland".
Amy was the same way. She took honors in 2 of her majors, won the English Dept Essay contest and finished an independant chemistry project.
During our time together we existed in a world with just the two of us. When we worked on our own homework or projects we were strangers. We fit. We were both obsessed with doing everything we could. We were "two of a pair", as Amy put it.
The last few weeks of the semester were a blur of awards, projects to complete, all night cuddle sessions, exams, papers and expresso made with caffeine water and rinsed down with jolt. We typed each other's papers, checked each other's lab work, argued about our essays and made love like crazed minks.
So, that brings me up to graduation. I spent last night not sleeping in her dorm room. This morning, Amy took her bicycle to get our caps and gowns, while I collected the final forms we need to get our diplomas delivered. We would meet back at her dorm, grab a late breakfast and head to graduation.
I finished first and was resting against the wall. We were both so tired that it's almost inevitable that she'd run into me. I think I hit my head because I woke up here in Student Health. But nothing is damaged and no problems. I've got to run or I'll miss graduation.
We've got a lot scheduled.
Today, graduation, tomorrow morning, the big wedding. Then I'm off to NYC to do financial analysis and Amy starts at the Philharmonic. Tomorrow afternoon Amy and I hit the Justice of the Peace for a quick ceremony before we head off to Zambia with the Peace Corps to do good things and study the primitive arts.
Like I said, no problem.
Can I go now?